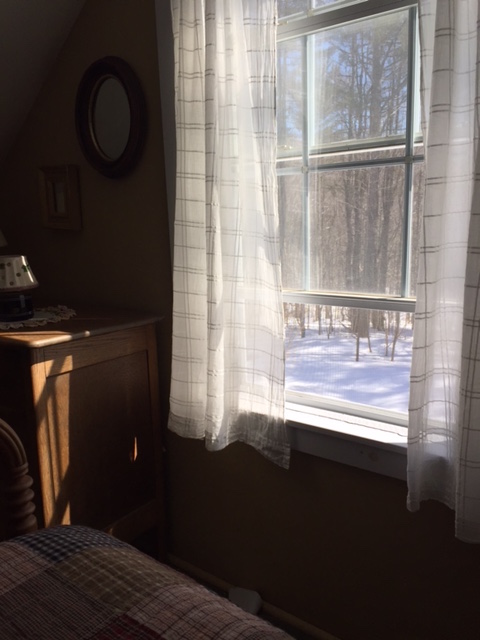 Our lives are so full and fast paced these days. Everyone is busy. We all have so much going on. We're overworked, overstressed, and in constant need of more rest. I think many of us have forgotten the importance of stopping to refresh and renew.
That's why we need to create a personal sanctuary.
A few moments of quiet solitude to be still with our own thoughts is extremely important to our own health and wellbeing. A daily time of quiet reflection is essential.
For as long as I can remember, spending time alone has been necessary for my own sense of balance and peace of mind. I need moments of solitude in every day to be able to ponder and process through my thoughts. I like to use the time to reflect on the past and make plans for the future.
As a Christian, it is important to me to take a few minutes each day to read and mediate on God's Word, the Bible. The Scriptures give guidance and wisdom for daily life. They help us know the mind of our Heavenly Father. Spending time in the Bible brings clarity and purpose to my day.
Along with reading and meditating on Scripture, I also love to carve out a few minutes in every day for activities that feed my soul. Whether it's reading a good book, working on a sewing project, gardening, taking a quiet walk, or practicing an instrument, doing something just for me is an important part of what keeps me sane as a homeschooling mother of eight children.
Karen Andreola, one of my homeschooling mentors, calls this sort of thing Mother Culture.
"When a dedicated, hard-working home teacher takes part in Mother Culture she safeguards her enthusiasm. She will be better able to cope with her responsibilities. To take part in Mother Culture is to feed herself with the Word of God, with ideas from books, nature, art, music, etc., taking care to keep growing spiritually and mentally."
It's not only homeschooling mothers that can benefit from taking time to feed their own souls with beautiful, life giving activities. Anyone can find peace and joy by carving out moments in each day to cultivate their own interests. So much more than just "Me Time," this daily sanctuary helps us to develop as people and brings refreshment to our spirits.
Do you have a time and place each day devoted just to you? A quiet, peaceful place where your soul can be renewed? Do you dedicate a few moments to solitude within your own thoughts? If you're a Christian, do you spend time reading and meditating on the Scriptures each day?
In the hustle and bustle of life, don't forget to feed your soul. Humans were not meant to be on the go 24/7. We need times of rest and silence alternated between times of activity and busyness.
Take time to create a personal sanctuary in your life. It doesn't have to be fancy. it doesn't have to take long. Just a few minutes of listening to your favorite song or reading a good book can do wonders. If you love to knit, do that. If you like to paint, make time for it. Enjoy a quiet cup of tea in the afternoon. Take a relaxing bubble bath. Just do something that brings you joy and makes you feel peaceful. Do it just for you. Don't try to find a reason to justify it. Don't multitask while doing it. Be fully present in it, just for a few moments every day.
This practice to create a personal sanctuary will bring balance to your life in ways you may not expect. It's a wonderful way to de-stress. It's great for your overall health and wellbeing. And you may find that you feel happier and more fulfilled in every other area of your life.