I've never been much of a plaid wearer. Most plaids are a bit too loud for my personal preference. Despite living in a region know for it's plaid flannel (ever heard of L.L. Bean?), I've owned very little of it over the years. My own style leans towards softer, more subtle tones and patterns. However, the lack of plaid has changed for me this season.
Plaid is really trending lately, which means the variety of colors and patterns in plaid has grown in the past couple of seasons. I've recently found some really pretty plaids that fit in with my personal style. And it's been so much fun!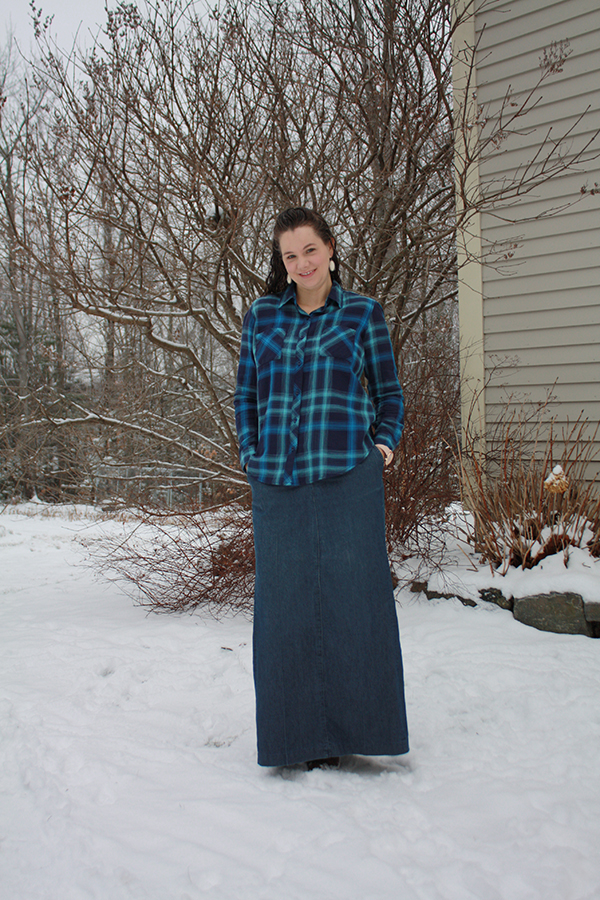 The outfit I'm featuring here is so comfy and cozy. It's casual and fun and definitely on trend. Perfect for a lazy day at home or a busy day running errands or chauffeuring kids around.
The skirt is one I up-cycled from a pair of denim trousers I got from ThredUp. I made them into a maxi skirt. I absolutely love this skirt and wear it all the time.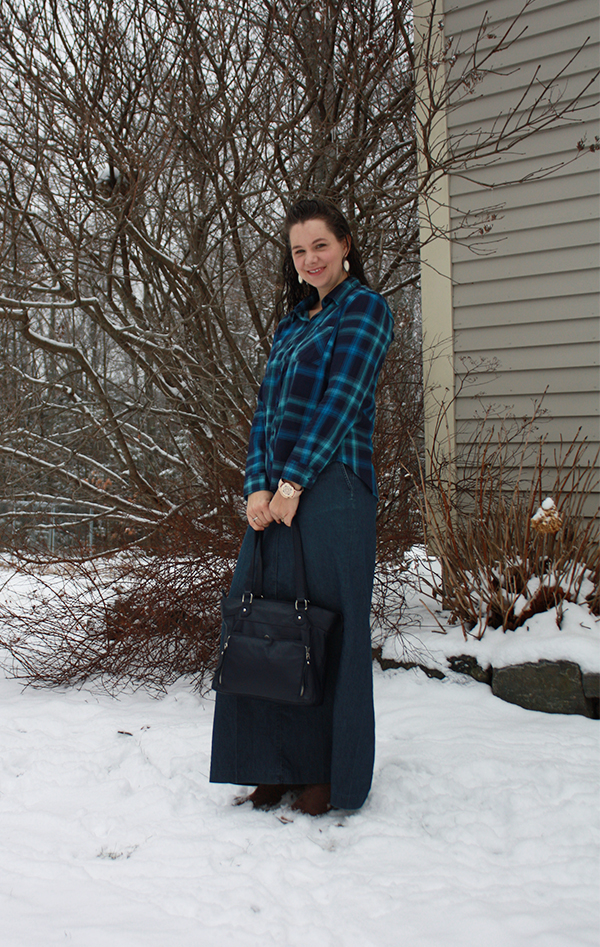 I've featured this bag before. It's the perfect shade of navy. The leather of the bag gets softer the more I use it. And it's just the right size for my needs. Definitely a favorite for me. Plus, using Ebates, clearance pricing, and coupon codes, I got a super great deal on it, which makes me love it even more!
Plaid perfection abounds in this shirt. The color combination is gorgeous and is just subdued enough for my taste without loosing impact. Flannel fabric makes this shirt so soft and cozy to wear. Yet, it's lightweight enough to span seasons from fall, right through winter and even into early spring (at least up here in the frozen north where spring doesn't come till late April).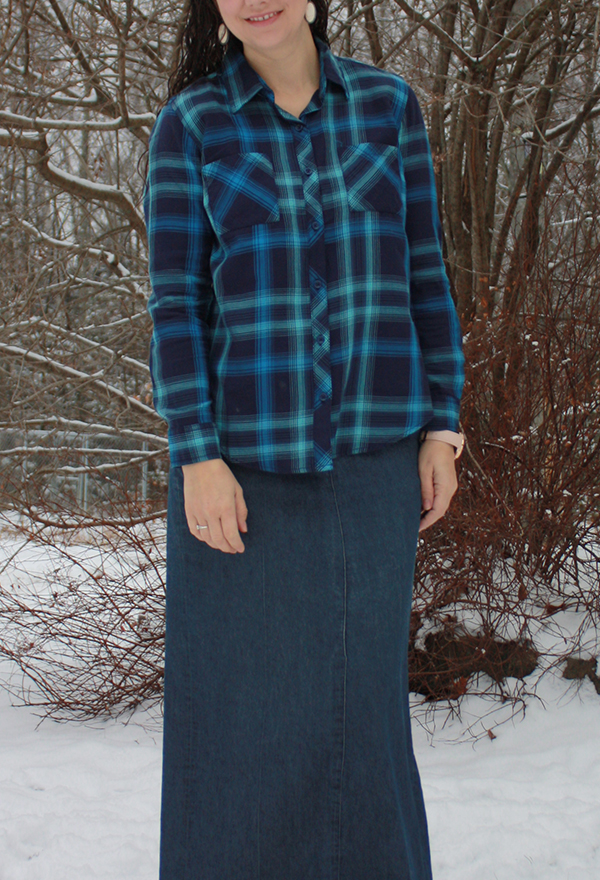 Overall, I'm loving the look of this plaid shirt and denim skirt combo. It's made regular appearances in recent weeks. I think I'll be continuing to bring out this outfit often throughout the rest of the winter.
How do you feel about plaid? Are you a lover? A hater? A new convert like me?
What I Wore
Denim maxi skirt: up-cycled via ThredUp
Plaid flannel shirt: Coco and Main via Zulily or Shabby Apple
Navy Bag: east 5th via J.C. Penney
Boots: Jessica Simpson via Zulily
Earrings: Divine
Please note: This post may contain affiliate links. This means I may earn a commission (at no extra cost to you) if you purchase something using one of my links.  Note that I only recommend products I believe in. Your support is appreciated!
Linking up with: Modest Mondays| Hello Monday| Classy Monday | Start the Week Stylish | Watch What I am Wearing | Style Sessions | Style Swap Tuesdays | On Trend Tuesdays | Turning Heads Tuesday | What I Wore | What I Wore Wednesday | Style Me Wednesday | Color and Grace | Who's Wearing What Wednesday |  Style Spotlight | What Wives Wear | No Rules Weekend Blog Party | Friday's Fab Favorites | Fun Fashion  | Fancy Friday | Fabulous Friday | Fashion Friday | Weekend Wear Linkup