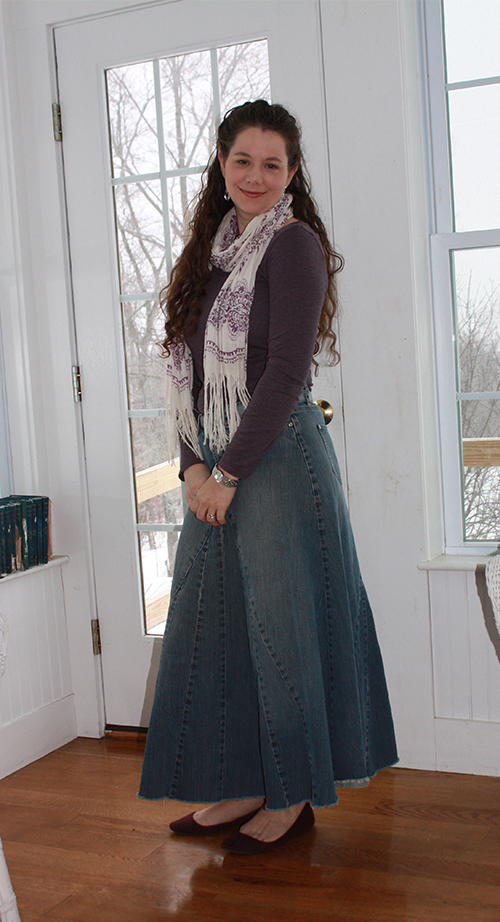 This week's modest fashion post is on the casual side. I've had an extremely busy couple of weeks, and quick and casual looks like this one have been my go-to.
All of the pieces in this outfit are ones I have had for a while. They are tried and true favorites I've worn again and again through several seasons. There's just something grounding and comforting about familiar clothing items you know will be comfortable and well fitting.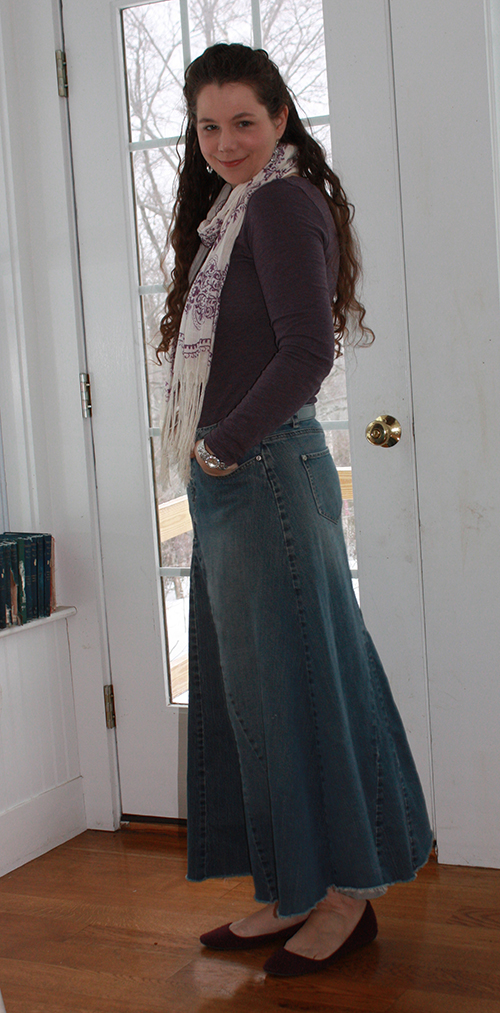 This denim maxi skirt has been a favorite of mine for a long time. It's a wardrobe staple that has stood the test of time for me. A high quality item like this one can serve well for many years and if it's a classic design like this one, it can withstand trends and still look current.
A simple scoop neck T-shirt is an absolute necessity. Every wardrobe should include at least one. This lavender tee is one I have reached for again and again over the years. I love the color and the fit. It's easy to dress up or down depending on the occasion. It's held up well through many washes.
These simple purple flats were a fun find at a local discount store. Flats are such a classic, they can complement almost any outfit. And when they're in a fun color like these are, they can accessorize and bring life into a simple wardrobe.
I love the pattern on the scarf I chose for this outfit. Believe it or not, I found it at Goodwill. The print of the scarf really lends the boho vibe to this outfit. I love the crinkly texture of the scarf, which compliments the pattern nicely. And the fringe really adds to the overall effect.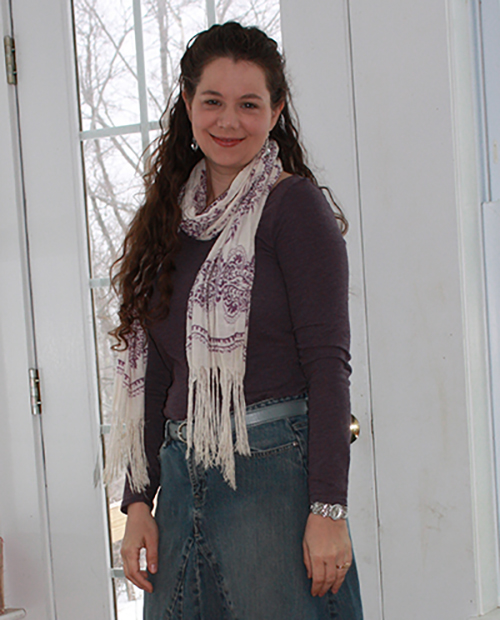 This was a fun casual look that was easy to put together and super comfortable to wear.
What I Wore
Skirt: Talbots, via ThredUP
T-shirt: J.Jill (similar)
Shoes: (similar)
Scarf: thrifted (similar)
Earrings: (similar)
Linking up with: Modest Mondays | Hello Monday | Start the Week Stylish | Watch What I am Wearing | Style Sessions | Style Swap Tuesdays | On Trend Tuesdays | Turning Heads Tuesday | What I Wore |  Style Me Wednesday | Color and Grace | Who's Wearing What Wednesday |  Style Spotlight | What Wives Wear | Thursday Moda | No Rules Weekend Blog Party | Friday's Fab Favorites | Fun Fashion  | Fancy Friday | Fabulous Friday | Fashion Friday | Weekend Wear Linkup