Please note: This post may contain affiliate links. This means I may earn a commission (at no extra cost to you) if you purchase something using one of my links.  Be assured that  I only recommend products I believe in. Your support is appreciated!
A wrap dress is a beautiful thing. Universally flattering, a wrap style dress is comfortable and versatile. If it's a faux wrap (or surplice) in a nice draped fabric like a knit, it's even better. To add modesty to a wrap dress, I always wear a cami or tee underneath it.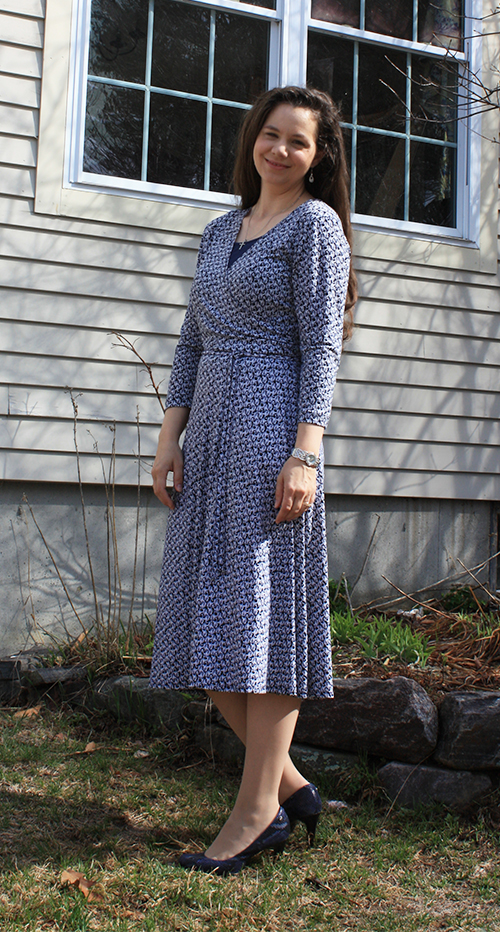 This navy print dress is new to my wardrobe. I found it on (where else?) ThredUp. I love the small, subtle swirls on the print. The color is beautifully neutral. It has a narrow tie belt that makes a nice accent to the dress.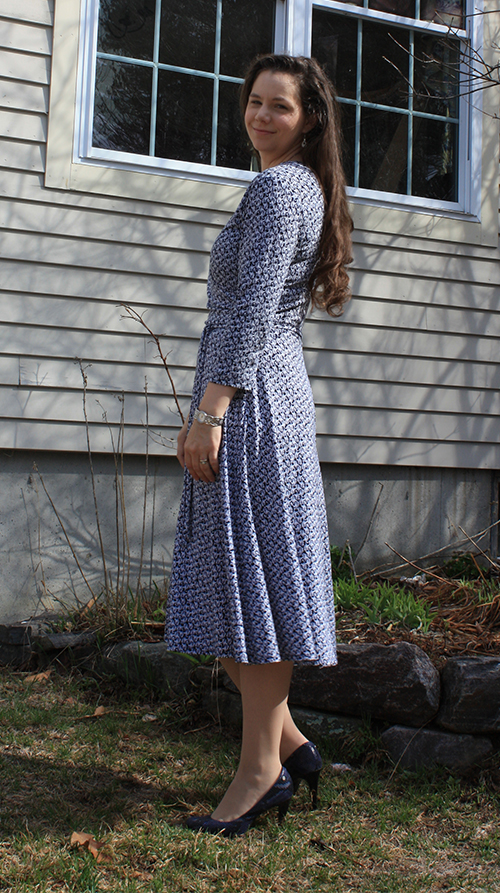 The cami I wore with the dress is from Old Navy. I've had it for a long time and it has served me well in many situations. It's great for adding a bit of extra coverage, like in this case. It's also useful for adding an extra layer of warmth if needed.
When I first spotted these shoes (also on ThredUP), I wanted to sigh in admiration. They're simple navy pumps, but what makes them special is the classically feminine silhouette and the fact that they are in snake skin. I'm not a huge fan of wearing animal patterns, but the snake skin pattern on these shoes is extremely subtle. It's just enough to give some interest and texture while still looking simple and classy.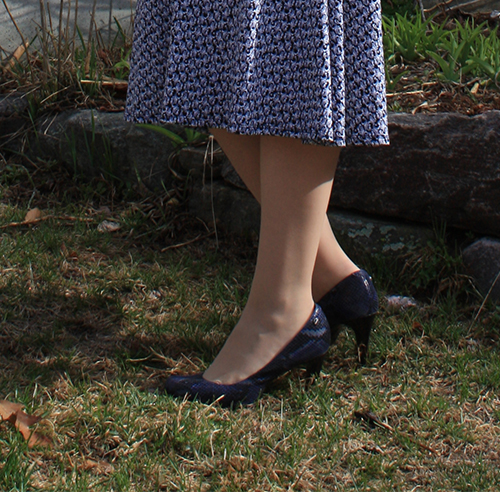 I  kept the accessories simple with a silver chain and small cross pendant, along with drop earrings.
This outfit was easy to wear and perfectly suited to my own personal sense of style. I especially love this dress and shoes.
Do you have a wrap dress? Do you love wearing them as much as I do?
What I Wore
Dress: Boden (via ThredUp)
Shoes: Calvin Klein (via ThredUp)
Necklace: similar
Earrings: similar
Linking up with: Modest Mondays | Hello Monday | Start the Week Stylish | Watch What I am Wearing | Style Sessions | Style Swap Tuesdays | On Trend Tuesdays | Turning Heads Tuesday | What I Wore |  Style Me Wednesday | Color and Grace | Who's Wearing What Wednesday |  Style Spotlight | What Wives Wear | Thursday Moda | No Rules Weekend Blog Party | Friday's Fab Favorites | Fun Fashion  | Fancy Friday | Fabulous Friday | Fashion Friday | Weekend Wear Linkup