I love the look of a nautical themed outfit, though I don't often wear them. A nice breton stripe top with khaki bottom makes for a classy, put together look.
The look I'm sharing with you today is my take on the nautical theme. I wore a light blue striped boatneck top. The top has 3/4 sleeves and a button detail on the shoulders. It's soft and easy to wear and is perfect to span the seasons between spring and summer or summer and fall.
With the striped top, I wore a knee length khaki skirt. I've had this skirt for ages and it gets a lot of use. It is such a classic piece that gives a timeless look to any outfit. A neutral skirt like this is so versatile and easy to pair with just about anything to create myriad looks.
Polka dot navy blue flats finish off this outfit while adding an element of fun. I added some simple jewelry to complete the look. I like how the silver tones of the jewelry highlight the soft blue of the top.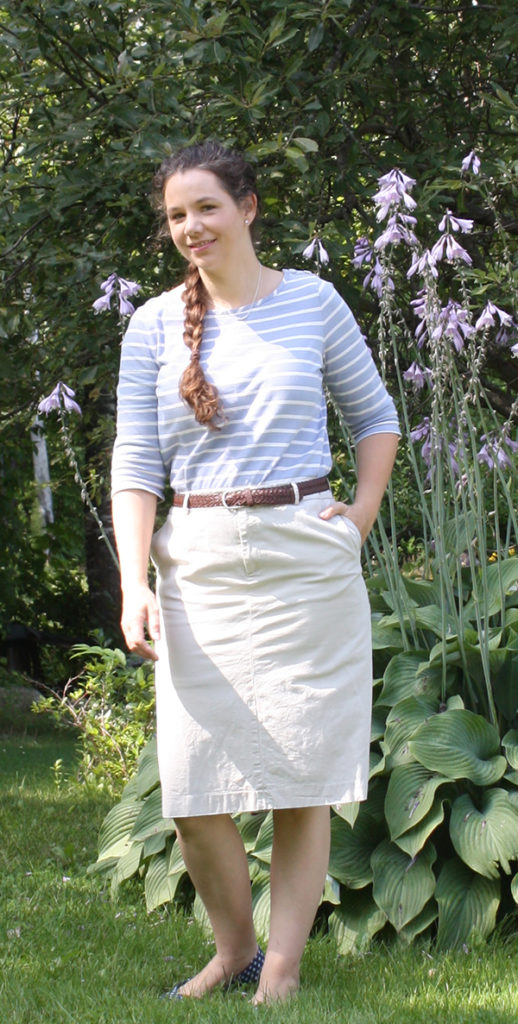 This outfit is perfect for days when I want to look casual but just a bit more polished. It's a step up from denim and a tee, but just as comfortable. The relaxed nautical feel of this look makes for effortless, simple style.
What I Wore
Top: Boden (ThredUp—it's actually a very short dress I wear as a top)
Skirt: Banana Republic (via ThredUp)
Ballet flats: (similar)
Earrings: Chloe & Isabel
Necklace: Kris Nations (came in my Summer Fab Fit Fun box)
Please note: This post may contain affiliate links. This means I may earn a commission (at no extra cost to you) if you purchase something using one of my links.  Be assured that  I only recommend products I believe in. Your support is appreciated!
Linking up with: Modest Mondays | Hello Monday | Start the Week Stylish | Watch What I am Wearing | I Will Wear What I Like |  Style Sessions | Style Swap Tuesdays | On Trend Tuesdays | Turning Heads Tuesday | What I Wore |  Style Me Wednesday | Color and Grace | Who's Wearing What Wednesday |  Style Spotlight | Thursday Fashion Files | Thursday Moda | No Rules Weekend Blog Party | Friday's Fab Favorites | Fun Fashion  | Fancy Friday | Fabulous Friday | Fashion Friday | Weekend Wear Linkup