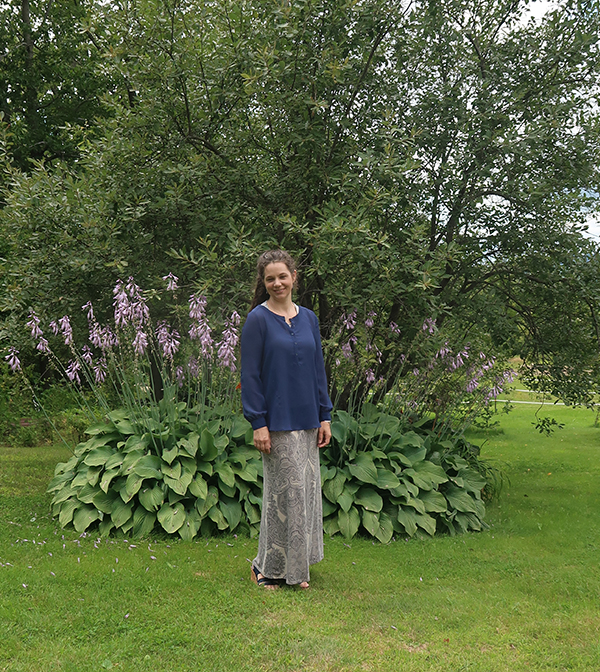 I'm back with another modest fashion post. This one features an outfit in blue and paisley for transitional style to bridge the seasons from summer into fall.
This is a simple outfit, but the look can be quite dressy. The flowing quality of the blouse and the length of the skirt lend itself to situations when personal style might need to elevated a bit. There is an easy elegance in this look. It was simple to put together, too.
The blouse featured in this outfit is a nice neutral navy. The material of the blouse has a crinkled texture and the silhouette is loose and flowy. The blouse is really more of a tunic style and looks really good as part of an outfit with a slimmer fitting bottom half.
I paired the blouse with an a-line knit maxi skirt with a subtle paisley pattern. Even thought the pattern is a very subdued gray, it has a nice impact. Although it is a patterned skirt, it feels like a neutral that can be styled with a lot of different looks. It's a nice seasonal transitional piece that can be paired with a t-shirt or with a sweater to extend the season.
My favorite pair of denim colored espadrille wedge sandals round out the look. A few simple pieces of jewelry complete the outfit.
This outfit is a great transitional style for this time of year, with the warmer fall temperatures creeping into cooler days that will soon be turning into truly chilly weather.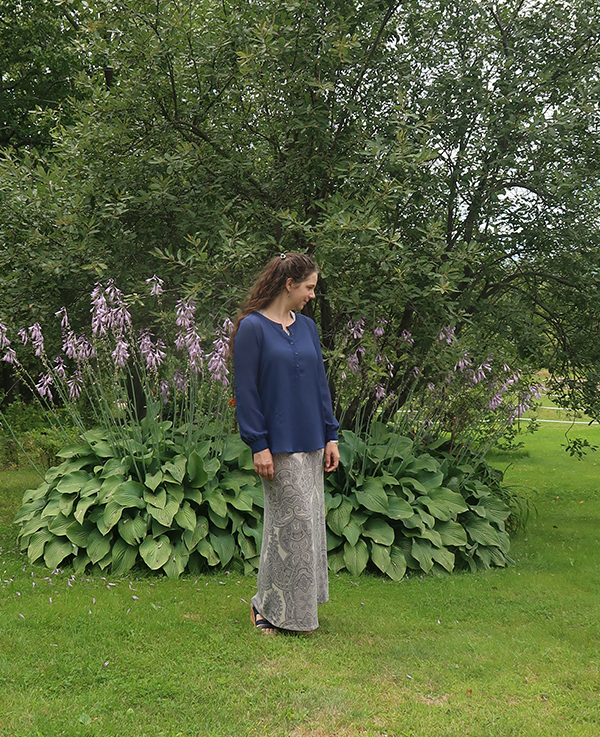 What I Wore
Blouse: NY & Co. (thrifted—find similar here)
Skirt: Chris & Carol (similar)
Shoes: Clarks
Earrings: Amazon Collection
Please note: This post may contain affiliate links. This means I may earn a commission (at no extra cost to you) if you purchase something using one of my links.  Be assured that  I only recommend products I believe in. Your support is appreciated!
Linking up with: Modest Mondays | Hello Monday | Start the Week Stylish | Watch What I am Wearing | I Will Wear What I Like |  Style Sessions | Style Swap Tuesdays | On Trend Tuesdays | Turning Heads Tuesday | What I Wore |  Style Me Wednesday | Color and Grace | Who's Wearing What Wednesday |  Style Spotlight | Thursday Fashion Files | Thursday Moda | No Rules Weekend Blog Party | Friday's Fab Favorites | Fun Fashion  | Fancy Friday | Fabulous Friday | Fashion Friday | Weekend Wear Linkup