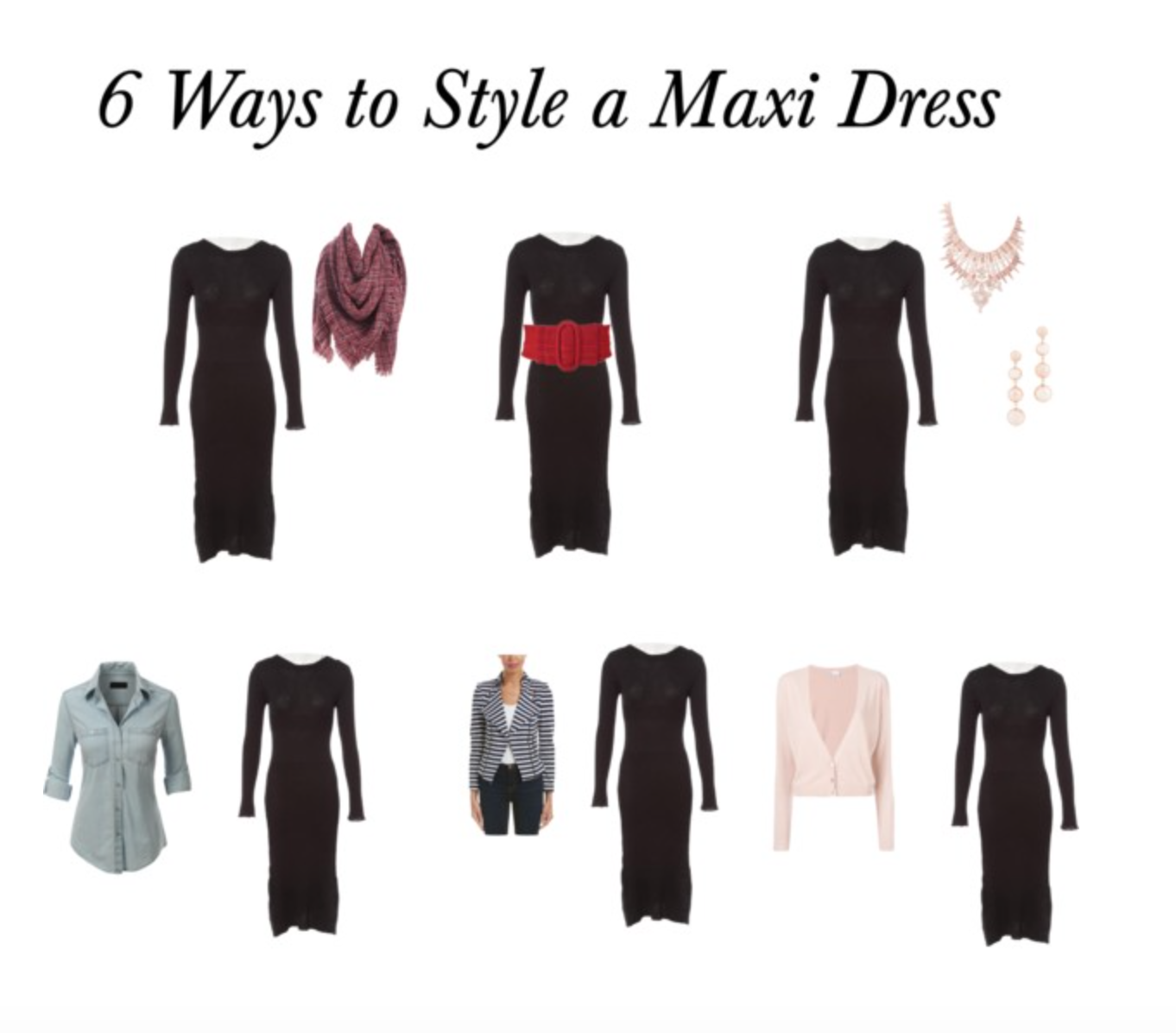 A knit maxi dress is a versatile wardrobe piece. It is simple and comfortable to wear and easy to accessorize. There are so many ways to style a maxi dress!
Being that it's one of my personal favorite items in my own closet, I wanted to share a few of my favorite ways to style a simple knit maxi dress. You very easily bring it from day to evening, casual to dressy with a few well chosen accessories. The possibilities truly are endless!
Here my 6 favorite ways to style a knit maxi dress….
With a scarf
Adding a scarf elevates a simple dress to another level and gives an added element of interest and style. You can express your personality with a fun or pretty scarf. And it's so easy to change out the look simply by changing the scarf.
With a wide belt
I love the simplicity of a knit maxi dress with a wide belt. Not only does it emphasize the waistline, but the right belt can really make a statement. Choose one that's colorful and interesting, and your outfit will be simple by far from boring.
With a jacket
Make a maxi dress office ready by adding a jacket or blazer. It can take the look up to a much dressier level. Worn with a pair of pumps and some statement jewelry, you have a comfortable by sophisticated look that's work-wear ready.
With statement jewelry
Adding a statement necklace or earrings to a simple knit dress can really spice up the look and make an impact on the overall feel of the outfit. It's a super simple way to look amazing. Let the simplicity of the dress be the perfect backdrop for an interesting and eye catching piece of jewelry to shine.
With a button down
Wear a button down shirt over your maxi dress, and you'll instantly change the look completely. By adding a shirt over the top of the dress, you are creating an entirely new look. It will give the impression of a top worn with a skirt, and will multiply your styling options.
With a cardigan
I love this look for church, date night, or some other semi-dressy event where you want to look pretty without having to put in a ton of effort. A colorful cardigan over a neutral dress with be eye-catching and eye pleasing. Add some jewelry and a pair of feminine shoes are your good to go!
So, which of these options is your favorite? Personally, I've worn and love them all!
Please note: This post may contain affiliate links. This means I may earn a commission (at no extra cost to you) if you purchase something using one of my links.  Be assured that  I only recommend products I believe in. Your support is appreciated!
Linking up with: Modest Mondays | Hello Monday | Start the Week Stylish | Watch What I am Wearing | I Will Wear What I Like |  Style Sessions | Style Swap Tuesdays | On Trend Tuesdays | Turning Heads Tuesday | What I Wore |  Style Me Wednesday | Color and Grace | Who's Wearing What Wednesday |  Style Spotlight | Thursday Fashion Files | Thursday Moda | No Rules Weekend Blog Party | Friday's Fab Favorites | Fun Fashion  | Fancy Friday | Fabulous Friday | Fashion Friday | Weekend Wear Linkup